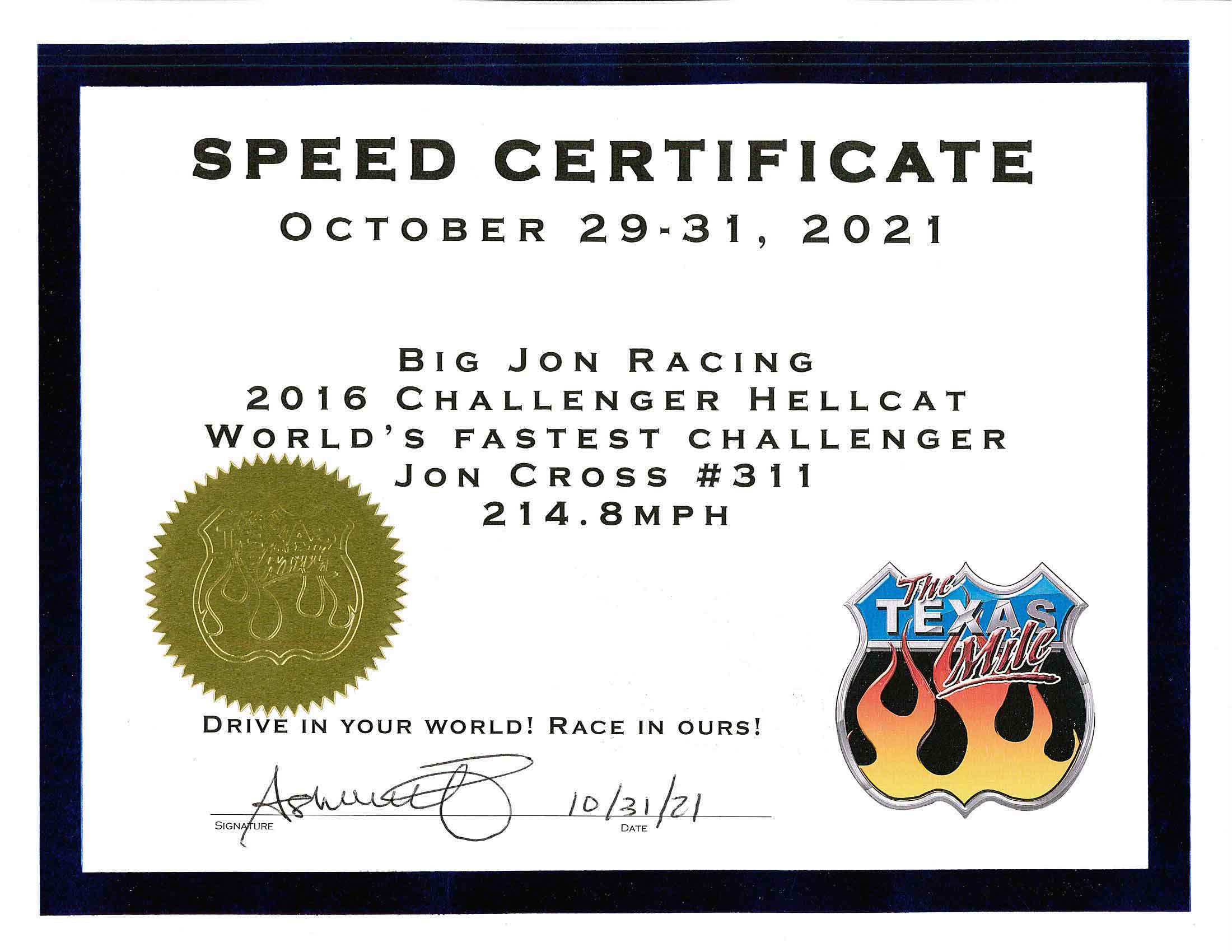 World's Fastest Standing Mile Challenger
Achieved at The Texas Mile 10/31/21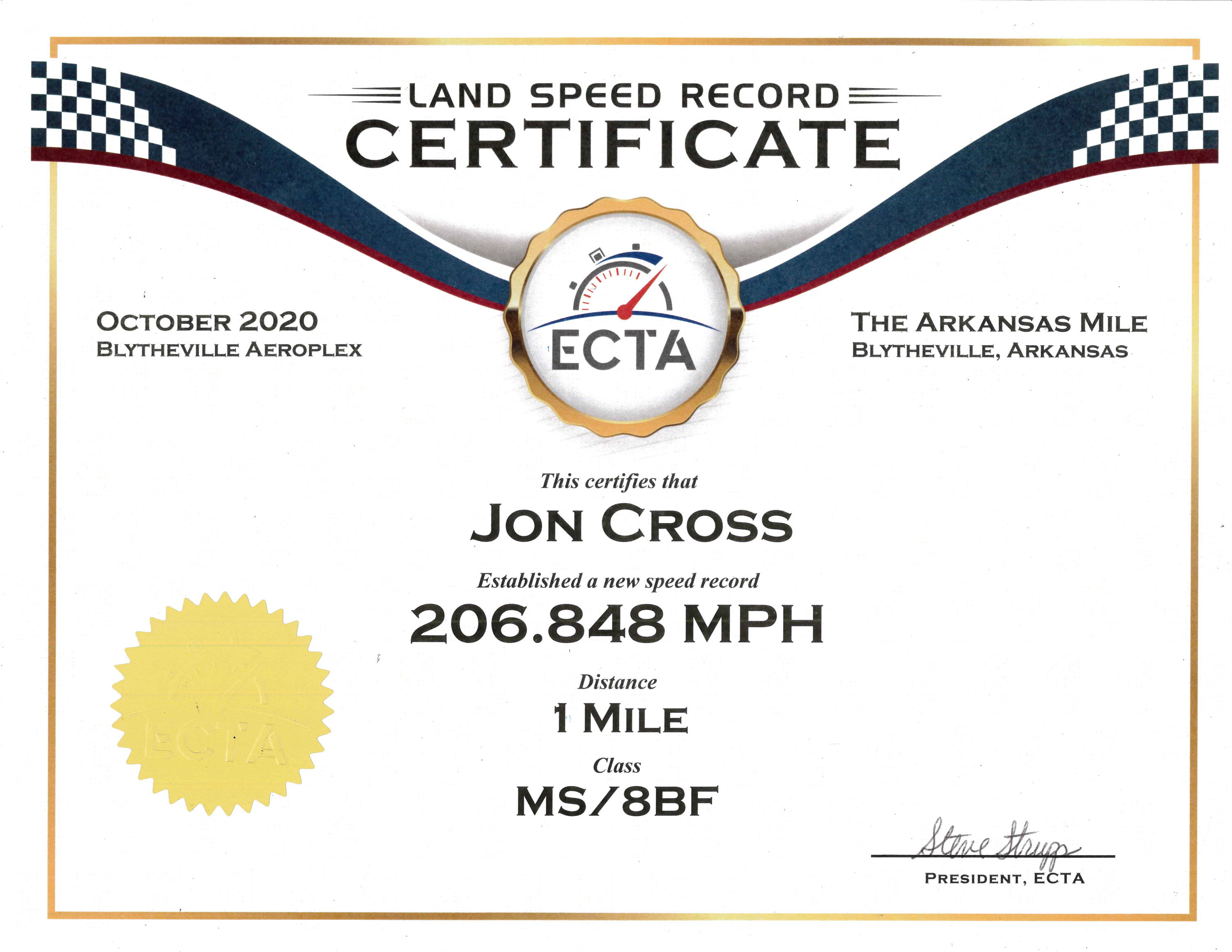 East Coast Timing Association MS/8BF Record Holder
Achieved at the Arkansas Mile 10/2/20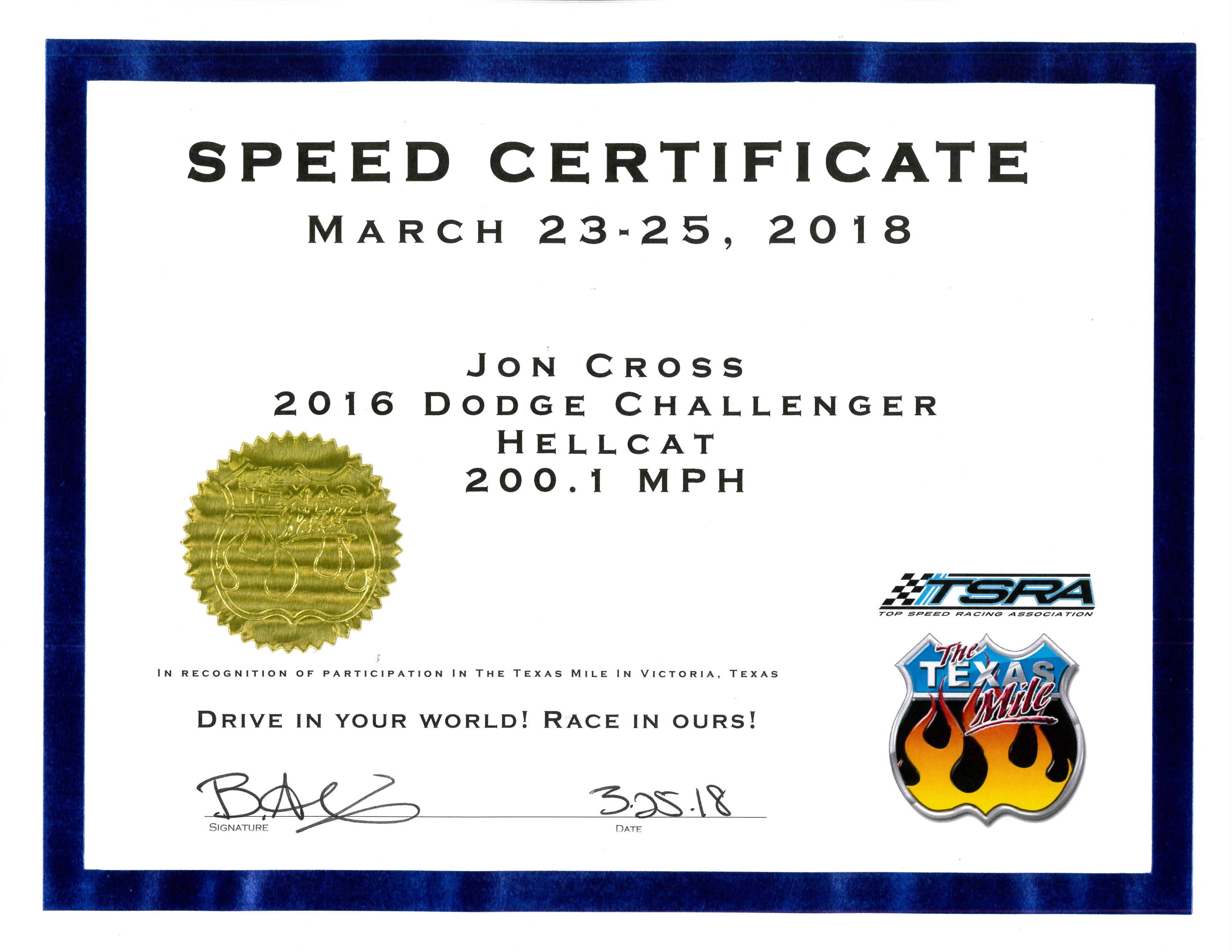 Big Jon Racing's First 200 MPH Standing Mile Trap
Achieved at The Texas Mile 10/23/18
Welcome to Big Jon Racing! Home of the World's Fastest Standing Mile Challenger! Founded in 2017 by "Big" Jon and Shanae Cross.
We compete in standing 1-mile land speed events and currently hold the Dodge® Challenger world record set in Beeville, TX on 10/31/21 at 214.8 mph.
We have a passion for the Gen III Hemi Platform and have been developing and track testing racing inspired modifications for the Hellcat through our racing program.
In 2020, we launched an all-new and first of its kind, Big Jon Racing™ Hellcat TVS2650 Anti-slip Dual Idler Pulley Kit (Patent Pending) for TVS2650 6.2L V8 Hemi Superchargers. This product eliminates belt slip common to the TVS2650 6.2L V8 Hemi Superchargers and is fully adjustable for different upper pulley sizes. It was equipped on our Hellcat during our record setting 214.8 mph standing mile pass in 2021.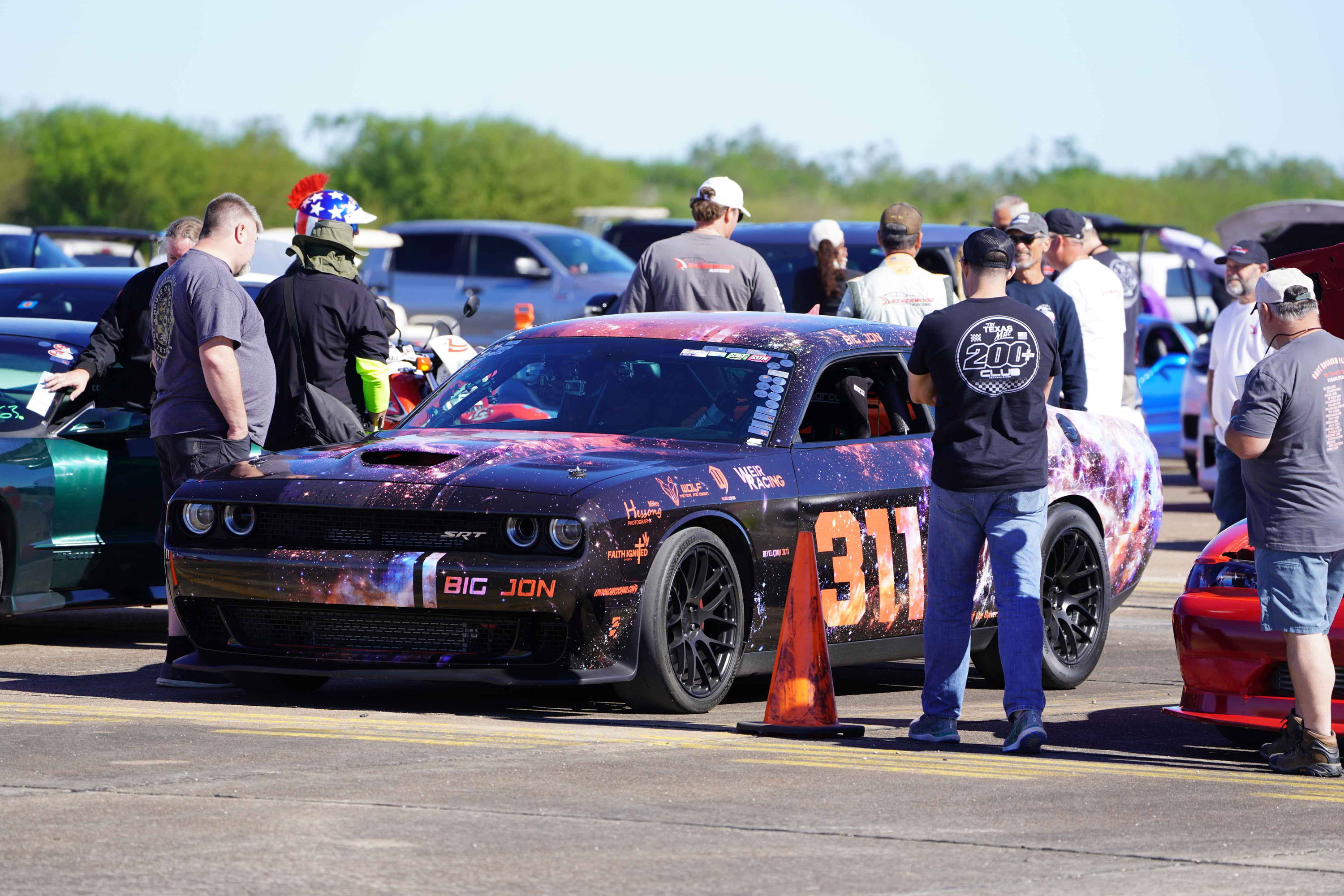 Big Jon is a Kansas native born and raised in the Wichita, KS. Standing tall at a height of 6'4" and weighing 265 lb., it doesn't take long to figure out why they call him Big Jon. His passion for racing developed early on in life while attending various racing events around the country.
Big Jon was introduced to land speed racing in early 2017 when he first competed in The Texas Mile event. Since then, it has been full speed ahead as he went on to set the Dodge® Challenger SRT Hellcat standing mile record at 200.1 mph in early 2018. This marked the first time for a Challenger Hellcat to enter the 200-mph club in the standing mile and it was accomplished with a factory stock motor and supercharger. He recently set the overall Dodge Challenger standing mile record at 214.8 mph in Beeville, TX on 10/31/21.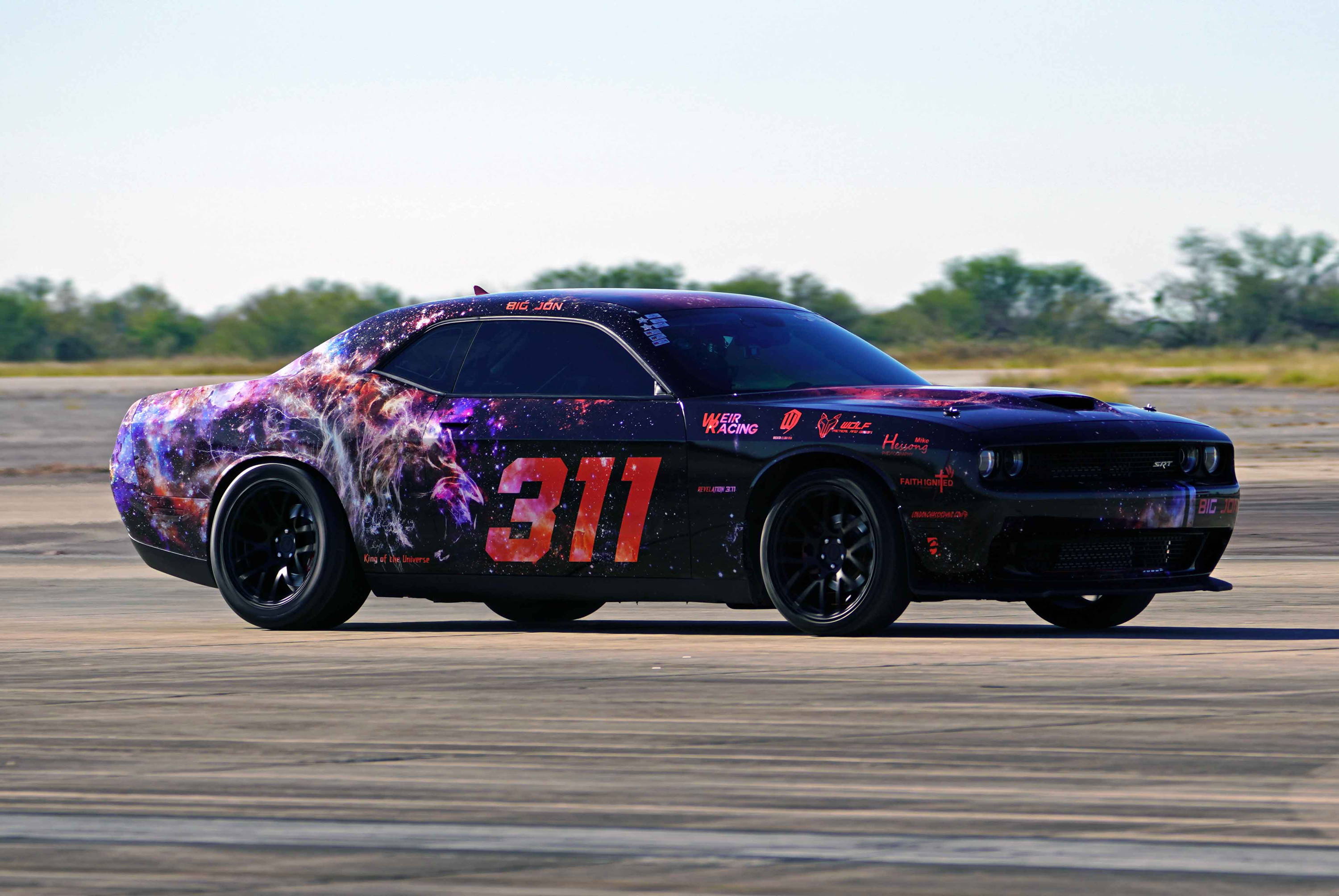 Big Jon is currently racing a 2016 Dodge® Challenger SRT Hellcat with a built Hellcat 426 Hemi™ stroker engine setup with a Magnuson®­­­ TVS2650 Supercharger on a Holley®­­­ EFI.
Our logo and wrap incorporates everything Big Jon wanted to represent: God, country, and going fast!
Big Jon named his Challenger Hellcat "Judah" in reference to the title given to the Son of God as the the Lion of the tribe of Judah. He is coming back soon to display His abosolute authority and power over all creation. And this is where Judah gets the number 311, because Jesus gave a promise to all who are born again in Revelation 3:11 when He said, "Behold, I am coming quickly! Hold fast what you have, that no one may take your crown."
Eternity is forever. Heaven is real. Hell is real. Don't wait!
If you confess your sins and repent, He is faithful and just to forgive you of your sins and cleanse you from all unrighteousness.
Now is the acceptable hour. Call upon the name of the Lord and you will be saved!
#VictoryAwareness